FOTD: Spell Fuchsia and Finding Myself
There's something about bright pink fuchsia lipsticks that makes me act more like a girl. God knows and so many people I know that I'm hardly the feminine type. I'm boisterous and loud, edging obnoxious. I'm not afraid to speak my mind as much as I like making small talks. Sometimes, people think I have no funneling system and seemingly as if I have no care for the world.
It may look like that way, but I'm not entirely all that summation. Like every other person, there's another Shen lurking inside that only the closest to me see. So I try to interpret it with my makeup and fashion choices.
When I say that I didn't have style, that means that I just dress up accordingly or when I'm channeling that girly-girl inside of me... That usually mean, pink or ultra feminine shades.
Like this look for instance...
I seem to be a bit reliant on 3 shades now... all from my dependable Beauty Pro Cosmetics Sweet and Smokey Palette. A palette that embodies the two persona residing in yours truly's body. The True Brown, Tan Brown and Shimmer Beige.
For me, this is the ultimate neutral make up look. It's unbelievably easy to recreate that I'm confident I can do this look even when I'm driving (although I don't advise on it) or even when both my eyes are closed (not blinded since I wouldn't be able to apply the eyeshadows then).
Tan Brown serves more as a contour which gives the appearance I have deeper crease. The Brown smokes it out a little. While the Shimmer Beige brightens up the eyes.
I don't know if you noticed that I lined my eyes thinly this time. Unfortunately, I didn't take this chance to Lana Del Ray my eyes. I just wanted to define and wing it to draw away people from seeing how droopy my eyes really are.
This look is meant to enhance the eyes.
I wish I have smaller nose. I really do. God knows I'd jump on a chance to get a rhinoplasty... and its at its worst when haters point out how big and ugly it is. But I try to cope. As I'm sure you do, too, whenever people pull you down and say bad things about your appearance.
We just really have to survive and realize that we can't please everybody. And though we may love everything about ourselves, there's always a silver lining. Mine are my lips. Many have complimented me on how full my lips are and though it took awhile for me to find the confidence to accept it... I finally did and it became more comfortable to saying "Thank you" and acknowledge it.
Now I play with my lips and makes it often as a highlight of my makeup looks.
Products used:
Powder Foundation: The Body Shop All-in-One Face Base
Concealer: Revlon PhotoReady Concealer in 02
Contour: The Body Shop Matte Bronzer in 04
Blush: Bobbi Brown Pot Rouge in Pale Pink
Lips: NYX Lip Liner in Pink Fuchsia
If you don't have a matte lipstick (we know those can be a bit expensive), opt for lip liners! They are drying, true... But with a well conditioned lips, this can pass for a matte lipstick. I got NYX Lip Liner in Fuchsia from
Digital Traincase
for only Php150 (during a bazaar). Viola! Instant matte lippie!
People may not always understand us and we may be a bit confuse as to who we really are. But instead of sulking and feeling sorry for yourself, take this time to explore your other facets and experiment. Blogging helped me a lot to put a lot of things in perspective. And if you're reading this post and feeling gloomy, I advise for you to create your own blog (if you still haven't) and simply start writing/typing. It doesn't have to be complicated, just something that is straight from the heart. :)
You'll never know where it might lead you... for me, it led to me experimenting with a more feminine looks and playing with bold lip colors. Which in turn, made me into the blogger that I am now. :)
Have you ever been mocked or judged? Did you ever feel you don't have any beauty in you? Share your thought with me and let's talk about it!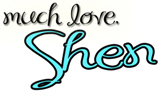 To get email updates, please subscribe here.
Please like me on Facebook and follow me on Twitter.
Got questions? Contact me here.