Burlesque-ing and Magic Mike


Burlesque, one of my favorite film starring Cher, Christina Aguilera and Kristen Bell, is playing on HBO. I love it for its musical number, the sexual tension between Ali (Christina) and Jack and the makeup!

I swear I'd be a burlesque dancer if my body is fit for it!


I want to learn the dance number here. :)
Now, I can't wait for Magic Mike!
Who is watching is mucho anticipated movie of the year! :) Yeah, baby!!
I can't wait to watch this with my girls! :)
I'm on a roll with films, huh? Well, I love watching movies and series if you must know.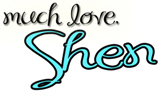 To get email updates, please subscribe here.
Please like me on Facebook and follow me on Twitter.
Got questions? Contact me here.