How To Deal: BF thinks I wear too much makeup

The Dilemma

"The boyfriend thinks I wear too much makeup."



How to deal
It's not really that easy to experiment with makeup when the BF seems to not like you wearing it. That's alright, most guys actually prefer
au naturelle
look. Some even prefer their girlfriends with no makeup at all.
But what does "too much" actually mean? I asked a few of my male friends to define this and most their answer:
"If you can tell she's wearing one... then, it's too much."
I personally think they don't know what their talking about. Hehehe!
The next time your boyfriend tells you you wear too much makeup, ask him why. Being in a relationship should mean that you can talk honestly and openly with each other. Tell him the reason why you wear makeup in the first place. It could be because you love to wear makeup, hide bad skin (zits, blemishes, etc.) or to impress him
Ask him what is too much makeup for him. If you talk about it, you'll be able to understand each other's points and be able to come into a compromise.
What if you do really wear too much makeup? (Guilty!)
Consider the following:
Benefit Sun Beam Bronzer
Cover only blemishes

Save liquid foundations for special events or evenings

Switch to a more natural-looking mascara

Choose a lipstick that acts like MLBB (My Lips But Better)

Cheek tints rather than powder blushes

Liquid bronzers instead of pressed powder ones

Stay away from cat eyes during day time and line your eyes with waterproof eyeliner in brown for a more natural effect.

Shimmers may be reserved for parties

Never forget to groom your brows.

No to bright colored makeup during daytime (save this for evening parties)
It's all about using your makeup at the right time and in proper places. Your boyfriend may have a point and since he loves you, listening to him couldn't hurt. Unless he is being overly dramatic and clueless about makeup.
You can also pose this as challenge for you to practice your no-makeup makeup look! #challengeaccepted
My Experience
I'm lucky that the boyfriend did not express any untoward reactions when I started to play around with makeup. We were already in our 2nd year relationship when the cosmetic bug bit me. He witnessed me bare faced with all pock and pimple marks marring my skin. I didn't know how to define my brows nor could I ever imagine wearing straight out black eye shadow or red lipstick.
But what I'm grateful for is that he understood my passion (read: addiction) to the colorful world of makeup. Yes he didn't mind waiting for me while I apply makeup, didn't mind that I use liquid foundation on a daily basis. He sees it as a way for me to express myself and coming from him, he know how much makeup makes me happy.
Bottom line
, you're in a relationship and it should be easy enough for the two of you to talk about things without worrying how the other should feel. If he can give up wearing that ratty old shirt you asked him to, then wearing less makeup is an easy feat! Don't change for him, rather meet halfway. :)
After all, there are a lot of products that are imitates good skin...Choose those that he could hardly tell if its makeup or not.
Got a dilemma? I would love to help! :)
E-mail me at shensaddiction@gmail.com for all your beauty or love issues.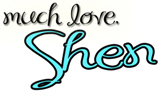 To get email updates, please subscribe here.
Please like me on Facebook and follow me on Twitter.
Got questions? Contact me here.