Tuesday, January 8, 2013
Katie Holmes' New Bobbi Brown Ad and the Makeup Used On Her
Many have waited with bated breathe, myself included, for the reveal of the ad of the very first celebrity face of
Bobbi Brown
,
Katie Holmes
. Has been just a few months? It feels like I waited for years! Yes, I am that excited. I'm a huge fan of both Katie Holmes and Bobbi Brown and I couldn't be happier to see the two work together.
And finally, here it is!
I am dying to know the Bobbi Brown marketing plans for Miss Katie Holmes. What collections she'll be endorsing and if she will collaborate with BB and get involve with color theory or would she just be a muse. I'm one of those who never really associated Katie Holmes with Tom Cruise. To me, she'll be forever Joey Potter from Dawson's Creek, who blossomed into a sophisticated woman as we (my generation) expected her to. Thank you for living up to our expectations! You are where we hope you'd be.
Bobbi Brown created her signature smokey look that glammed up Katie's expressive hazel eyes. The over all look with the tossed up, piled on necklaces and bedazzled black tube paired very well with the whole makeup look. As always, it looks natural and quite befitting Katie's current status, that she is her own person and can take on anything. Pretty Powerful, if you ask me.
Curious to know what Bobbi Brown used on Katie's eyes? It's the new Long Wear Cream Shadow Sticks ($28) that I hope have the same intensity as her Long Wear Cream Shadows.
What you think of Katie's first Bobbi Brown ad? What look would you like to see her next in?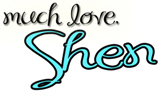 by

Lee Shen Gee
at 1/08/2013


Labels: bobbi brown, cream shadow sticks, katie holmes, long wear collection
About Me
my life is pretty much about blogging, makeup, my dogs, friends and my loving bf.

find out more @ Shen's Addiction

View my complete profile