Purebeauty Beauty Sale Thrills at Serendra! August 15 to 19,
Don't forget to drop by at PureBeauty at Serendra for their first SALE ever. Up to 50% off on selected items. It's 5 Day sale so you better haul your cute bums and buy smart at Pure Beauty! :)
my haul
Pure Beauty is located at Serendra, 2nd floor. Along Bench Fix Salon.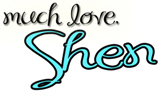 Got questions? Contact me here.