L'oreal Professionnel Chroma Straight Hair Makeover | Winner Announced!
Congratulation, Angelica P. Aragon-Manalata!
You won Chroma Straight Hair Makeover from L'oreal Professionnel.
I can definitely relate to how you are feeling lately. I, too, have felt it and it was when I got my hair done did I felt so revived again. It's amazing how a simple hair makeover can inspire us again.
So here's to giving you that boost of inspiration ! I can't wait to go on a salon makeover with you soon!
Email me at shensaddiction@gmail.com with your mobile number so we can schedule our salon date ASAP!
:)
See you soon!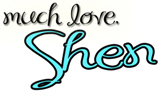 To get email updates, please subscribe here.
Please like me on Facebook and follow me on Twitter.
Got questions? Contact me here.