Friday, August 31, 2012
Boy do I miss playing with colors! My skin is slowly going back to normal and now I get a chance to play with more vibrant shades. What will I do without makeup? If you know how to use them or more precisely, how to remove them properly... the possibilities are endless.
I'm happy that no matter what state my skin is, I get to play around with them. Which reminds me that I've got to tell you about my favorite makeup removers soon!
But for now, let's celebrate with colors. Say hello again to my uber wonderful Beauty Pro Cosmetics Palette, Crazy Colours. Doesn't it remind you of your watercolors back in grade school? I love this palette so much, I wish I can use it everyday.
This time, Periwinkle and Vivid Purple caught my attention. I remember hogging these two shades from everybody's crayola boxes when I was younger.
Here's the look I came up with. :)
Pretty, noh? :)
I amplified the purple look with the Makeup Forever Aqua Liner in Diamond Black Purple and lined my lower line with K-Palette Eyeliner Black. Amped up my lashes with Revlon 3D Volume Mascara
Pink cheeks and lips pairs well with purple so play with these shades to give harmony to your look. :)
I used a generic pink blush from one of China-made palette while the lipstick are from Bobbi Brown Hi-Shine Colleciton.
Do you love purple makeup look? I hope it doesn't remind you too much of Barney, though. :) LOL!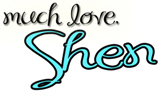 To get email updates, please subscribe here.
Please like me on Facebook and follow me on Twitter.
Got questions? Contact me here.
by

Lee Shen Gee
at 8/31/2012
0 fab comments


Labels: beauty pro cosmetics , bobbi brown , crazy colour palette , eotd: purples , makeup forever , periwinkle , the makeup look , vivid purple
Friday, December 30, 2011
Here's the inspiration!
Here's a look!
And this is the tutorial! So if you want to know how recreate it, please watch!
And below are the products that I used for this Jennifer Lopez-Inspired Makeup Look!
For the face:
Benefit Cosmetics Triple Performing Facial Emusion with SPF 15
as moisturizer and sun protection
Z-pore Instant Pore Refiner
as primer
The Body Shop Extra Virgin Minerals Cream Compact Foundation
as foundation
The Body Shop All-in-One Face Base
as setting powder
The Body Shop Matte Bronzer
as contouring powder
Majolica Majorca Puff De Cheek
as blush
For the eyes:
Benefit Stay Don't Stray Primer
Beauty Pro Cosmetics Sweet and Smokey Palette (get it
here
)
Beauty Pro Cosmetics Crazy Colour Palette (get it
here
)
Maybelline Impact Express Smooth Felt Liner
Bobbi Brown Glamour Extreme Lengthening Mascara
Flutter False Flashes in Dainty (get it
here
)
For the lips:
NYX Soft Mstte Lip Cream in Milan
Bobbi Brown
More pictures below!
I did try to make waves with my hair like Jennifer's but my hair was still too wet... and seriously. I think my hair is hopeless. may i should get myself a
Carusso Professional Steam Hair Roller
! So of course, I put my hair up again. I like the clean feel of it.
I really like the feel of this look. I wore it when I went out for dinner with myself and I notice that it did grab attention from onlookers. The striking smoked out periwinkle and peach really complimented the soft pink lips.
And though I still need to brush up on my false lashes application, I still tried and I'm quite content with how this look ended up.I love how this whole look balanced out.
This look is really great for New year's Eve party since your eyes are on full party mode but you don't need to worry about your lips smearing during those beso-beso moments and of course, the that midnight kiss with the love of your life. Pink lips are easy to touch up and if you're too lazy, just keep a clear gloss in your person at all times for quick retouch.
Just a a day before 2012! Are you excited? I am but then, I'm also a little bit scared. :)
To get email updates, please subscribe here.
Please like me on Facebook and follow me on Twitter.
Got questions? Contact me here.
by

Lee Shen Gee
at 12/30/2011
3 fab comments


Labels: beauty pro cosmetics , eotd: blue , jennifer lopez , periwinkle , the makeup look
About Me
Blogging is a passion and I live for beauty. 

find out more @ Shen's Addiction

View my complete profile